Mentoring the Future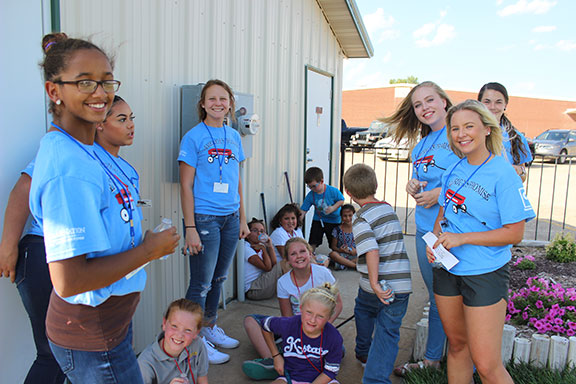 Hang on for a minute...we're trying to find some more stories you might like.
Last week many students were seen wearing light blue shirts with the words America's Promise on them and they were asked what that was. Ema Millard said, "America's Promise is an amazing opportunity for kids who may not have very much to go out into the community and do things they may not always get to participate in. America's Promise is an amazing program that should continue for years and years to come." America's promise is an organization that has been a part of this community for almost 20 years.In this organization where three children from every school in Great Bend, and two from every school in surrounding towns are chosen to participate in fun activities that allow them to socialize with high schoolers that can have a positive effect on them. Students that are mentors are chosen because they may be in a lot of clubs or they have a great academic record.
This year America's Promise has undergone some new changes that will bring more fun into the organization Lizzie Linenberger said,"the event that I am looking forward to most is fly day." This year America's promise has added two new places that students from elementary schools can participate in with their mentors. These things are going to the salt mine in Hutchinson and also going on a plane ride this spring break. Other activities that the people in America's Promise are doing this year are a shopping trip in Walmart, going to Healing Hearts Ranch, Cosmic Bowling, swimming at Club 1 Fitness, a tour of the Great Bend Fire Department, and skating at Fun and Rolling Skate Center.