GBHS Debaters Win Both Divisions at Lyons Bring home 2nd place in Sweepstakes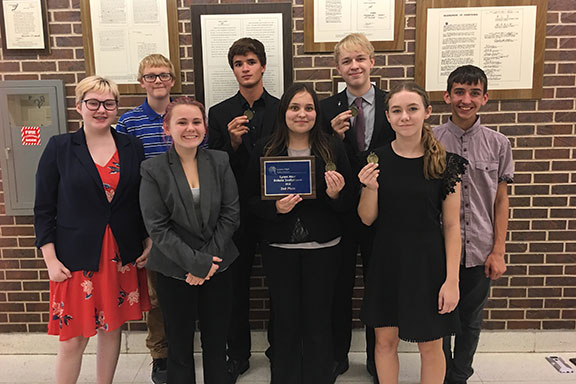 Hang on for a minute...we're trying to find some more stories you might like.
The wins keep piling up as the GBHS debate team earned first place in both the open and novice divisions and earned the second-place overall sweepstakes trophy at the Lyons Invitational Debate Tournament this weekend.
Juniors, Patrick Heath and Bayle Sandy posted five wins and zero losses in the open division and were awarded 1st place medals. Junior Daniel Abbott and Freshman Skylar Fletcher also posted a 5-0 record and brought home 1st place medals in the novice division. The 3-2 record of the other two novice teams competing on Saturday helped the Panther Debaters earn enough points to win the 2nd place sweepstakes trophy. Those teams included Tia Mitchell and Isaiah Smith as well as Paige Byerle and Malachi Wasson.
The tournament featured 20 schools from across the State. Many area schools competed along with schools from as far away as Kansas City. There were 39 open teams and 37 novice teams fighting it out.
"I am proud of my team for doing so well at this tournament. It is a great feeling knowing all our hard work is paying off," said Bayle Sandy. Her partner, Patrick Heath, thinks other schools are starting to notice his squad's success, "We really showed the other schools that Great Bend is a force to be reckoned when it comes to debate," said Heath.
Junior novice, Daniel Abbott said, "I'm very proud of my partner and all of my other squad members for helping make this tournament so successful for everyone."
Skylar Fletcher quoted tennis superstar Boris Becker when asked about her success at the Lyons Tournament, "I love the winning, I can take the losing, but most of all I Love to play."
The GBHS debaters next travel to Buhler on Saturday, October 20th.