Memorial Day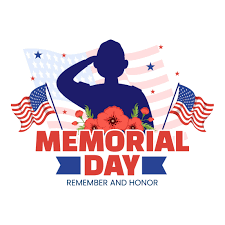 Memorial Day is a federal holiday that takes place on May 29th. With this being just three days away, its a perfect time to talk about the holiday. This is one of the two holidays recognizing people in military services. We also have Veterans Day. However, Memorial Day is to honor military members who we have sadly lost.
memorial day started in 1868, which was three years after the civil war finally came to an end. The head of the Veterans Organization wanted to do something to honors those who had lost there lives so they started by decorating the graves with flowers. However, there were locals who claimed they had put flowers on the deceased from war graves before 1868. Today, many people will visit the cemetery and brings flowers as well. Some places will even hold a memorial day parade for people to attend. Others will have family gatherings.
One thing that has been confusing to some is the wording of memorial day. Many people will say happy before a holiday. For example, happy birthday or happy Easter. However, it can actually be disrespectful to say happy memorial day. Its a day where people are grieving people who they have lost so its not typically a happy day for people going through pain. I talked with Emma Haag and she said "I wish we had a parade here to honor those who we have lost. I'm so sorry to all who have lost someone". Emma also has a uncle who is in the army.
Another thing you can do on memorial day is thank your current Veterans who are still fighting. You shouldn't wait till memorial day to thank them but if you normally don't, its a great time to start.