Throwback: A walk down memory lane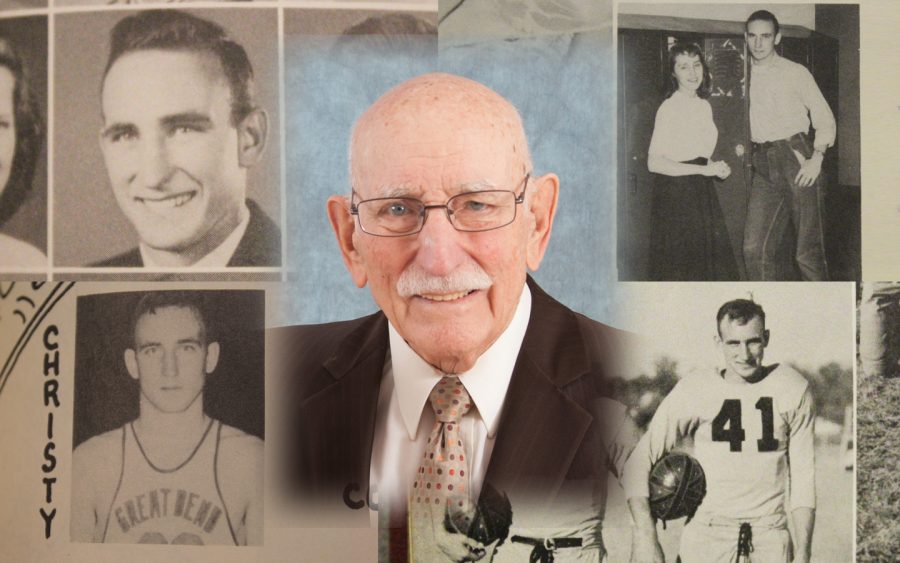 About 69 years ago, then student, Dave Christiansen, was featured in one of the earliest copies of the Panther Tales. The story featured Mr. Christiansen with his basketball team and all the success the team has had and the last game of the season. Recently, Mr. Christiansen agreed to come up to the high school and share some of his experiences being a high schooler in the the 1940's.
Mr. Christiansen attended Roosevelt high school from 1945 to 1949. Throughout his years in high school, he played on the football team, the basketball team, and he ran for the track team. Being a very tall and athletic teenager, Christiansen was popular in high school; he was voted as Rhorea King when he was a senior. When asked what he did for fun whenever he wasn't at school, Mr. Christiansen mentions that he spent a lot of his time working, but that he enjoyed hanging out with friends at the White Cloud Inn and playing football.
Aside from sports, Christiansen said that he liked learning history. He remembers all of his teachers being very kind to him mentioning that "teachers treated me as if I was their own." When asked what he thought has most changed since he was last in high school, Christiansen points out that the technology is a lot more advanced today. This comes to no surprise though because most schools did not use computers in classes until the early 1980's/ late 1990's; almost four decades since Dave Christiansen graduated high school!
During the time that Mr. Christiansen was being interviewed, it is clear that he enjoyed his four years in high school. Towards the end of the interview he made sure to tell us to savor our last few remaining months of high school because we will miss it. He also gave us some advice to give to other high schoolers saying, "If you don't have respect for what you are doing, you don't have respect for anything."
All of us on the Panther Tale's staff would like to extend our gratitude to Mr. Christiansen for taking the time out of his busy schedule in order to be interviewed for this story. It was truly amazing to see how much high school has changed since 1949 but it is also amazing to see how much it hasn't changed.