GBHS Speech Student is State Champion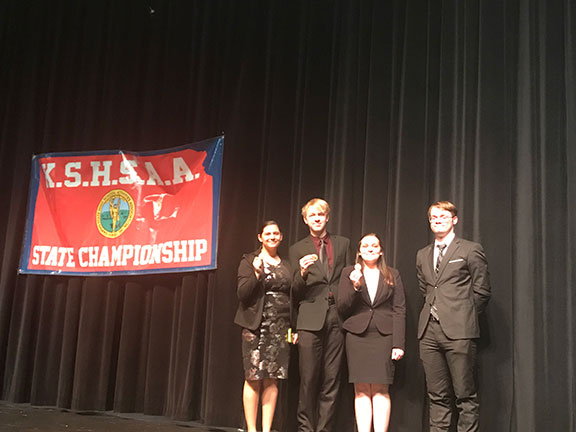 The 5A State Speech Tournament was held at Valley Center High School on Saturday, May 5. Junior Jalyn Lear was State Champion in Prose Interpretation. Lear received all first places in Finals by all of the judges. Four Great Bend High School forensics students competed in two events each and placed Tenth in sweepstakes out of twenty-seven 5 A schools with just eight entries (which is only half of the full entry). Four of those events advanced to Semifinals (that is 50% of our total entries
advancing to Semifinals). And three of those events advanced to Finals. Those placing were the following: Junior Jalyn Lear placed first in Prose Interpretation, Sophomore Patrick Heath placed sixth in Informative Speaking. Sophomore Bayle Sandy advanced to Semifinals in both of her events. She placed eighth in Serious Solo acting and advanced to finals in Original Oration placing sixth. Junior Geoffrey Pafford qualified and competed in two events also at the tournament and helped the team place 10th overall in sweepstakes.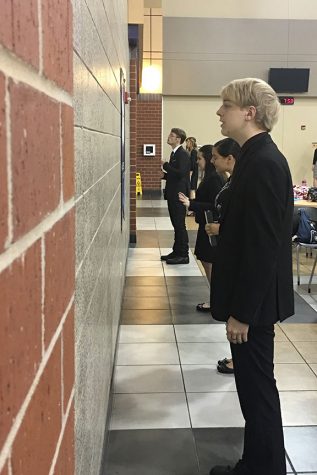 When Lear was asked about her state championship accomplishment, she said, "I started the tournament saying, 'let's just get this over with,' but ended the day with a winning medal in my hand. This is probably the first time I've ever felt like a winner." Coach Barbara Watson said,
"Jalyn Lear has worked so hard on her Prose Interpretation and it has really evolved and developed. Jalyn started working on it in January and qualified for state at the very first tournament of the season and she has continued to qualify it at almost every tournament she competed in with it. Jalyn also developed it into a Humorous Solo Acting performance for the District National Qualifier two weeks ago that helped her create more blocking, sound effects, highs and lows in it, and more comedic timing. Then the past two weeks she converted it back to a Prose and adapted the humorous acting skills she acquired into it to fit the Prose Interpretation event again. She also improved it after each tournament by making notes of what the judges told her to work on from the their ballots. That is the reason why Jalyn wrote and memorized a new introduction for it about a month ago. Jalyn also takes my competitive speech and forensics class by arrangement during one of my Sophomore English classes. I quickly tell her at the beginning of class what I want her to work on or what she wants to work on dealing with her events. Then she goes to one of the practice rooms and starts working on those areas. Occasionally she has performed for that English class and many times she performs for me after school. I think the variation and size of the audience has been great for her to feel comfortable performing in front of both types of audiences. That arrangement would not work if she was not self-disciplined. I am so happy that her hard work paid off."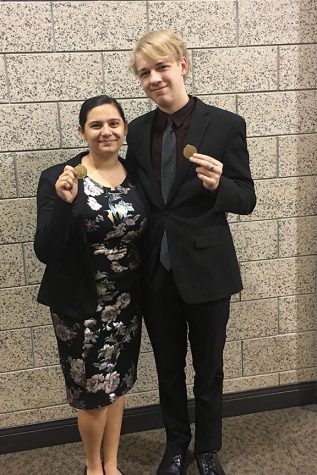 Lear's state championship title is the 13th one that Great Bend high school has earned while Mrs. Watson has been the coach. Watson reflecting on the Forensics season as a whole mentioned another recent highlight has been when Sophomore Patrick Heath qualified to the national tournament in informative speaking (and also placed with it at state). This makes the 40th national qualifier Mrs. Watson has had in 31 years of teaching at GBHS. Coach Watson said, "I am impressed with how much Patrick has accomplished and grown this year. I am also proud of Bayle Sandy and how hard she works and what a great attitude she has and also how intelligent, talented and mature she is as a Sophomore. I was also very impressed that Geoffrey Pafford took the initiative to read over a 500 page book and cut it down to a 10 minute acting scene and when it did not go over well with all audiences Geoffrey then read and cut a play. I am very proud of my whole team and I know they will continue to be successful with Kim Heath who has been my unofficial assistant for the past 16 years and will take over my position as the head Debate and Forensics coach next year. I know it will be a smooth transition. I wish the best for Kim Heath and the team."