A Cloud Over the GBHS Tennis Team?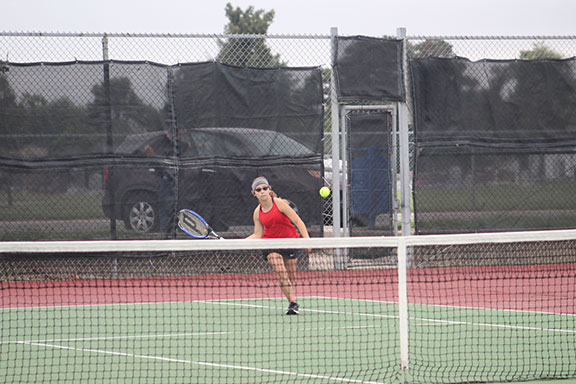 Hang on for a minute...we're trying to find some more stories you might like.
Recently due to the weather many sporting event have been effected on how well they play or if they even get to play at all. The ones affected the most because of the weather are the GBHS Girls Tennis team has already been forced to cancel one meet and several practices. Some people may think that even in the rain the athletes should practice. But doesn't the weather affect how well the athletes play? For some the weather can affect if they play at all. Dinah Newman a sophomore at GBHS said "I am very annoyed with the recent weather conditions. I play tennis and it has rained out several tennis meets." Thankfully the weather has improved and the tennis team has been able to get back on track. Katherine Snapp a senior at GBHS said " It was gloomy for about a week, but now the weather is much more pleasant. It is perfect for playing tennis…" Now that the tennis team can get back on track there's no stopping them. With regionals and WAC coming up good weather conditions during practices and matches is what the girls tennis team really needs. Even things like a small breeze can force an athlete to change how they play their sport. That is why athletes have to prepare for all possible obstacles that may affect how well they play. By doing this the GBHS athletes have improved in ways that allow them to accomplish their goals of winning and showing just how great GBHS is.