The All Star Basketball Players of GBHS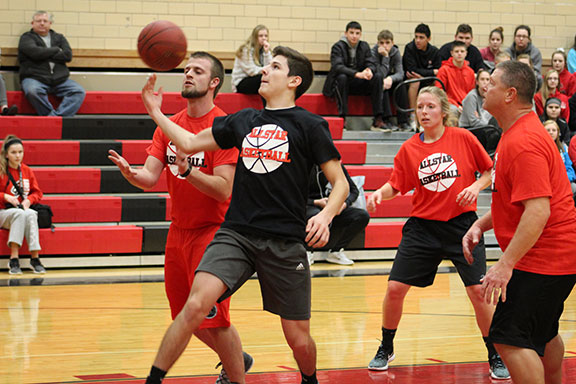 Hang on for a minute...we're trying to find some more stories you might like.
This year's annual All star Basketball competition happened yesterday with a large turnout. Every year Kayettes hold All Star Basketball to raise food for the local food bank. Last year there was more than 200 food items collected. This years goal is to pass that. All Star Basketball is a basketball game between seniors and teachers all of them trying to win while also trying to have a good time while playing. Coaches for the teams were Kaylee Unruh and Alyssa Keller for the seniors. While they don't get a big prize in the end they do get major bragging rights over the losing team. Practicing weeks before both teams hope that they will come out as the winners in the end " honestly I hope that the seniors win, even though that's what every class wants " said Shelbie Deason. Last year the teachers won the game and this year with a score of 76-77 at the end of the game the teachers came out as the winners once again. Every year the game is filled with laughs and suspense " just getting to play since I haven't played basketball since 6th grade" is what Molly Kaiser said was her favorite part of All Star Basketball. From the teachers or students doing something goofy in the game to try and get the upper hand to the final minutes of the game that determine who will be the winner and have bragging rights for the next year. In the end both teams had a great time playing and the students look forward to All Star Basketball next year. Maybe next year the seniors will win.