A New Tradition Added to the Pep Assembly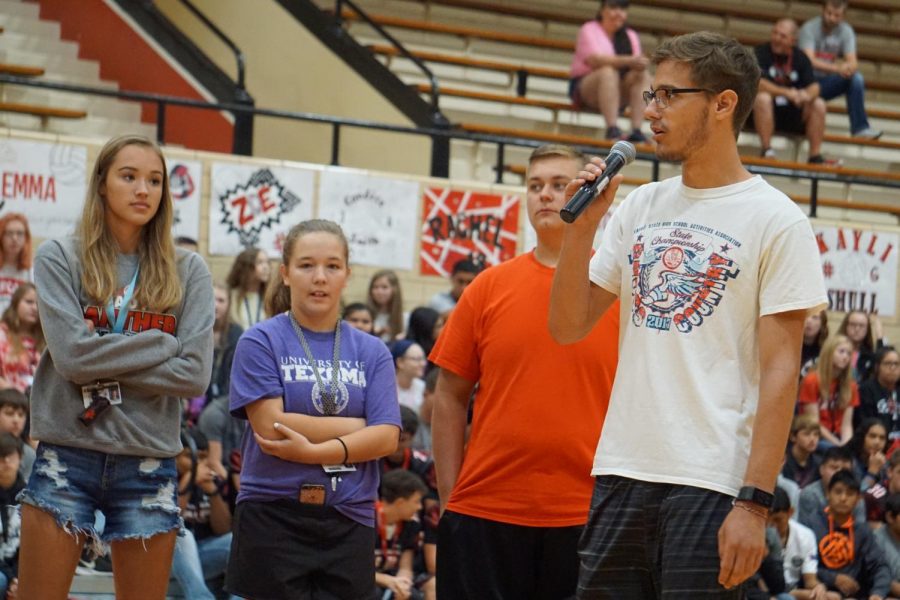 The pep club at the Great Bend High School has counted on multiple traditions each year when hosting the pep assemblies. At this event, there is always a certain time for the cheerleading squad to lead the school in the cheers, and there is an order in which the sports are recognized. The assembly is planned down to the last minute. So, when a new tradition is implemented, it is a change that everyone notices.
The Tradition
At the first pep assembly of the 2019-2020 school year, a change was made that differs from all other pep assembly. It disrupts a tradition that was set in place since the beginning of our high school. This year, the pep assembly will be including and recognizing the wide variety of clubs that the high school offers.
This new tradition was set in place by a few students seeking to recognize the clubs at our high school. These students went to the pep club sponsor, Lori Tennis, to help implement this new idea into the upcoming pep assemblies. Tennis told how the clubs will be spread out in the year to be recognized, rather being acknowledged all at once.
Not only does the pep club sponsor like this new change, but many teachers and staff appreciate this new tradition being implemented to the pep assembly schedule. Past pep club sponsor, Emily Mulch, commented "that it might be a battle, but I think it is a battle worth fighting to recognize our student leaders." She urged how it is important to recognize students for what they do because it will encourage others to participate in these activities and identify the student leaders in our school. It is important for the administration and students to put faces to names of their student leaders within the high school. National Honor Society's secretary, Patrick Heath, commented on how "it feels good to finally be recognized and acknowledged."
Timing
However, with this new change comes complications. The first pep assembly went overtime leading many to believe that this could be a big issue, but according to GBHS principal, Tim Friess, it was not a problem that will discourage having the clubs being recognized in the future. Friess commented how "it was longer than normal, but it was worth it." He explains how "there's a time and place for everything and I think that adding academics to the pep assembly is a great idea. The more that we can showcase what students are doing the better. I think it is a great for our whole student body to see the leaders of their clubs."
The Impact
This year, a new tradition was made. GBHS will now be recognizing more students in order to allow everyone a chance to feel appreciated. Many students and staff are still a little hesitant about this change because it disrupts the normal pep assembly schedule that has been around since the beginning of the high school. However, even with this large change, many people around the school are realizing the benefits that comes with acknowledging those who normally aren't given the chance to be. At Great Bend High School, we fight to include those, no matter who they are; this is what it means to be a panther.