As You Wish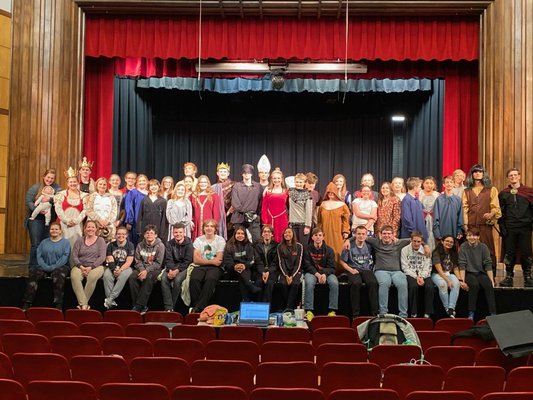 Hang on for a minute...we're trying to find some more stories you might like.
This year, Drama Club sponsor and play director Holly Johnson decided to take on the classic novel and film, The Princess Bride, for the Great Bend High School fall play. The play will be on November 16th and 17th, with showings at 2:00 pm and 7:00 pm each day. Tickets can bought from members of the Drama Club or members of the play for $4, or they can be bought at the doors for $6.
The play this year is called, 'As You Wish: Inconceivable Tale from the Making of the Princess Bride' by William Goldman, and it is an adaptation of the Princess Bride book/movie, which has come to be known as a romantic, comedic, and adventurous classic. Local businesses from all around Great Bend are sponsoring the play, such as A440. As an example of how dedicated those involved with the play are, each tech members and actors go through a week of long practices which they dub "Tech Week" or "Hell Week." On each day that week, all those involved in the play stay from right after school until 9:00 PM or later, whether they are running through the performance or making the finishing touches on props.
Senior Patrick Heath and Senior Tatum Sander are the main stars of the play, with Patrick playing the role of Westley, and Tatum playing the role of Princess Buttercup. "I've been in plays since freshman year," Patrick said, "I love the movie. My favorite scene is when I get to do the sword fight with Daniel [Abbott, who plays Inigo Montoya]."