2019 Math Relays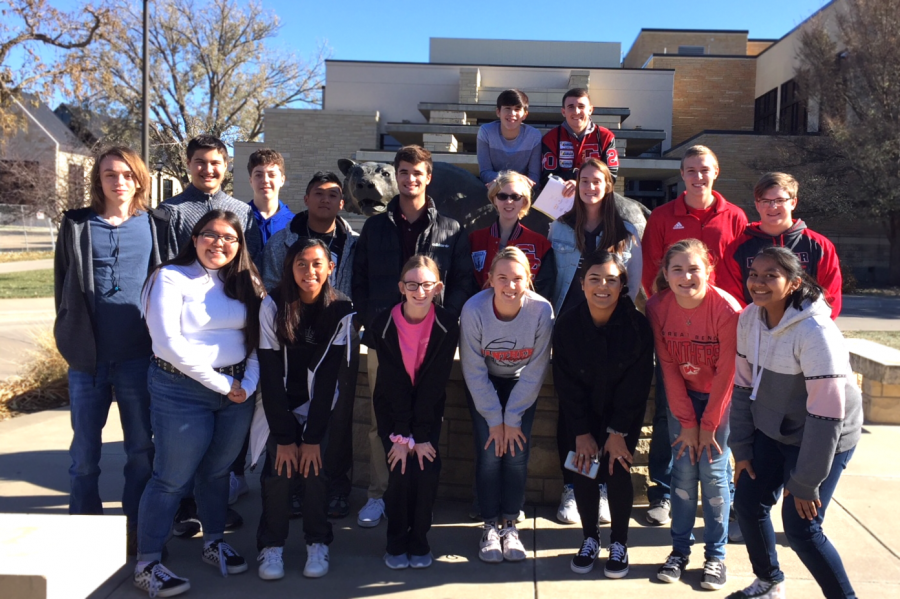 The 41st annual Math Relays, hosted by the Mathematics and the Computer Science Departments at Fort Hays University, was held on Thursday, Nov. 14. In order to show off its students' math skills, GBHS brought eighteen students to compete at this rigorous tournament. With over 600 students from 1A to 6A school at the competition, the team did outstandingly.
Leading the senior team were Allen To, CJ Gibson, Daniel Abbott, Sayra Solis, Jenna Mauler, and Alex Schremmer. In this tournament, the students were able to compete in team events or individual events.
In the group events, the senior team of Abbott, Schremmer, and To placed 8th in Using Number Sense. The other team of Mauler, Schremmer, and To placed 7th in Trigonometry. Coming out with a 1st place finish in Informal Geometry, Measurement were Abbott, Solis, and To. The final team of Gibson, Mauler, and Schremmer placed 4th in Calculations with Calculators.
Not only were the 12th grade teams successful, but they also brought success individually. Leading the seniors in individual events with a 1st place finish was Allen To in Calculations with Calculators. In the second event of Trigonometry, Abbott placed 7th and Gibson placed 8th. Also, placing again individually, was Gibson in Informal Geometry, Measurement coming out with a 3rd place finish.
Also, contributing to the team was juniors Jaime Arellanes, Deizel Banks, Cal Dinekack, Taylor Lindberg, Will Linenberger, and Sydney Mason. In Algebraic Manipulations, the 11th grade team of Arellanes, Banks, and Linenberger placed 3rd.
Chipping in to the team success individually was junior Cal Dunekack, placing 9th in Algebraic Manipulations. In Trigonometry, junior Taylor Lindberg placed 10th. In Informal Geometry, Measurement juniors Dunekack placed 6th and Linenberger placed 9th.
Only three sophomores competed at this tournament and they were Esten Moore, Gabriella Reyes, and Amy To. They competed in two group events together and did an array of events individually. Placing 2nd in the first event, Using Number Sense, was the team of Moore and Reyes. In Informal Geometry, Measurement event the 10th grade team of Moore, Reyes, and To placed 8th. In the individual portion sophomore Esten Moore placed 9th.
Competing for the first time at the math relays were freshman Alondra Alvarez, Madelynn Gregg, and Maddix Pokorski. In Applications of Algebra the 9th grade team of Alvarez, Gregg, and Pokorski placed 7th.
The math relays was a success for Great Bend High School. In sweepstakes they ended up with a 7th place finish in the 5A category and were able to test out their math skills. The future is bright for these mathletes, especially with the help of their sponsor, Tina Hiss.