Celebrating 214 Day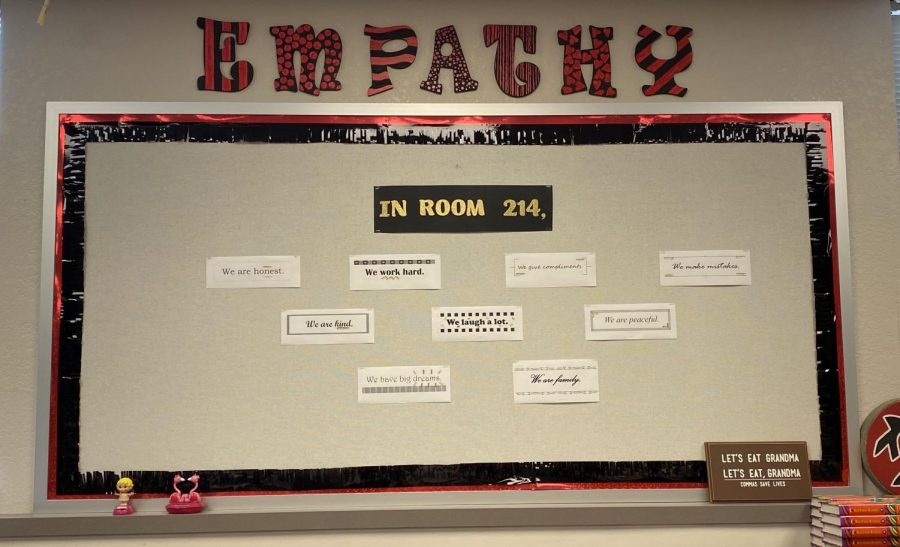 For most people, Valentines Day is a time for a date night, catching up with loved ones, and trying to find their Valentine. It can bring up feelings of love and connection. However, this is not the case for everyone. Some are left with a feeling of loneliness and disappointment. No matter who you are, you have most likely experienced both at some point in your life. For the students who are feeling lonely this holiday, a teacher at GBHS is trying to make a change.
For advanced English teacher, Kayci Strickland, Valentines Day is completely dumped. Instead, on February 14, "214 Day" is celebrated.
Back when Strickland first started teaching at the high school, she was assigned the room number 214. As this matches the date of Valentines Day, this coincidental room number sparked an idea.
Strickland realized that she could have her classes celebrate Valentines Day without focusing on the theme of romance. So, she made an activity for her classes that everyone could celebrate.
When February 14 comes along, she assigns her students the task of writing "nice notes" for every student in their class. Nice notes are compliments directed towards each individual student that highlight their talents and show their appreciation for each other.
When students get these notes, they can feel a warm, fuzzy feeling in their heart rather than feeling left out of all of the hearts and flowers of Valentines Day.
"I wanted students to feel loved and appreciated for who they are," Strickland said.
And Strickland's plan is working. One of Strickland's AP Literature students, who has written nice notes for the last two years, believes, "This tradition of writing nice notes helps me realize that people are actually taking notice about what I do in our school."
It is important for everybody to know how they shine and how other students care about them, and that is what Strickland wanted to bring out. Sometimes students can judge themselves too harshly, and it can be powerful to know people appreciate them for their quirks and oddities. Nice notes allow students to see the best parts of themselves.
By taking the time out of a busy day to appreciate those around us, it can have an enormous impact on both students and teachers. After more than 7 years of celebrating 214 day, Strickland has started keeping her nice notes from past years. She continuously reflects on these notes to bring joy to herself.
While Valentines Day can be rewarding for those who have a partner, it is not always a day filled with love for others. However, by celebrating 214 day, Strickland is helping spread love.