Panthers Place Third at Lyons Forensics Tournament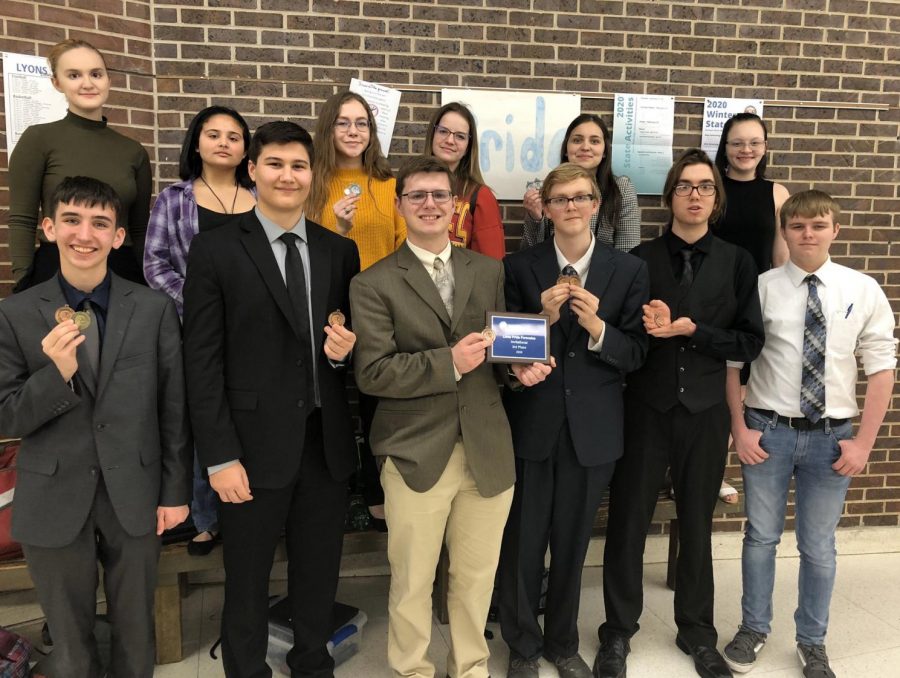 The Great Bend High School Forensics Team broke 11 entries to into finals at Lyons and finished third in team sweepstakes out of 25 schools.
On Friday, the team participated in Congressional Debate at Lyons High School. Great Bend lead speakers were Dalton Dicks who placed 4th and Isaiah Smith who placed 6th.
Saturday found the squad back at Lyons. In Extemporaneous Speaking, Dalton Dicks placed 4th in Extemp. and Maddix Pokorski was 5th. Isaiah Smith and Malachi Wasson earned 3rd place medals in Duet Acting. Bayle Sandy finished 2nd in Program Oral Interpretation and Serious Solo Acting.  Also placing in Serious Solo was Isaiah Smith in 3rd place and Hayden Honomichl in 5th place.
The Panthers swept the Informative Speaking event with four competitors in finals. Malachi Wasson won the event with a speech on the history of video games. Skylar Fletcher placed second by sharing photography tips. Xanna Smith won third place honors with a biography of Walt Disney, and Thain Bowman placed fourth with a speech on combating depression.
GBHS coach, Kim Heath, noted that "Lyons High School will host our district competition. Much of the judging pool will be drawn from the community. Our success this past weekend will hopefully correlate with success when we compete for national qualifications in April." 
This marks the 3rd time this season that Great Bend has earned a trophy for team sweepstakes and the 4th time that they have finished in the top six schools overall. Great Bend has also earned 62 medals across the four meets and earned 9 qualifications for the state tournament that will be held at Salina South at the beginning of May.
The team will next compete at Moundridge for Congressional Debate on March 6th and Hoisington for Forensics on March 7th.