Varsity Girls' Tennis Home Meet
On Tuesday, September 7 at the Vets Tennis Courts in Great Bend, the Lady Panthers competed in a round robin against Hays, Dodge City, and Larned.
Laura Daniel (12) placed 3rd in singles and went 1-2. Kaylin Wahlmeier (10) placed second in singles and went 2-1. Samantha Mayers (10) and Taylor Lashley (10) placed 4th in doubles and went 0-3. Tania Molina (12) and Danica Strickland (10) placed 4th in doubles and went 0-3.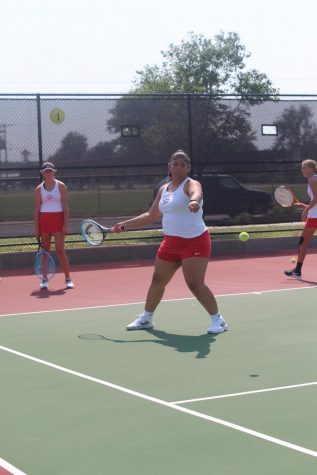 Starting only two years ago, Tania Molina has improved exponentially, from the way she holds her racket to how she serves. However, this is only the beginning; she still has a whole season to get even better. This season, Molina is most looking forward to "improving overall as a tennis player and getting to enjoy one last season with my friends."
Each girl got to play three matches, one against each of the visiting teams. The matches were spread throughout both sets of courts at Vets Memorial Park.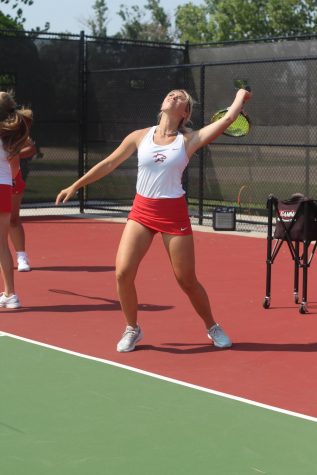 This season is Laura Daniel's first time as a singles competitor. Her normal partner, Sahara Rziha (11), had surgery a week before the first meet. Therefore, Daniel got to compete alone for the first time since she started playing when she was quite young. Daniel stopped playing shortly, then picked it back up in middle school, stopped again, and started again her sophomore year. "I'm looking forward to the WAC meet because I'll be playing #1 singles," said Daniel.
The varsity girls worked hard this meet, but now it's time for the JV girls to take the court today, September 9th, at 3 pm on the Vets courts.