Trina Charles' Book Recommendation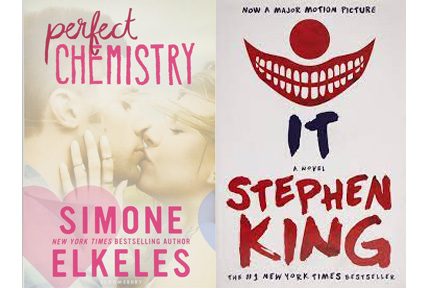 Title- Perfect Chemistry
Author- Simone Elkeles
Genre- Romance
Setting- High School
Rating- 4/5 Stars
Summary- Britney and Alex are partnered up for chemistry. Britney was dating someone but as a bet she kissed Alex and started to have feelings for him. Then drama with her family, friends, and living on different sides of town tore them apart.
Title- It
Author- Stephen King
Genre- Horror
Setting- House and Sewer
Rating- 4.6/5 Stars
Summary- A boy named Billy has a little brother named Georgie. Georgie wanted to go play with a paper plate in the rain; then he meets a clown named Pennywise. Pennywise comes back every 27 years to feast on kids fears.