Jenna Dean's Book Recommendation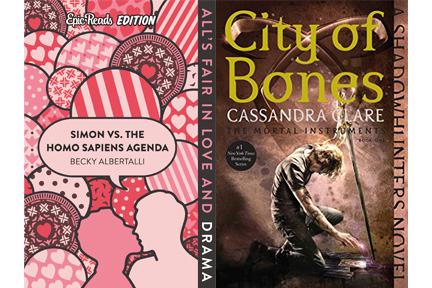 Title- Simon vs. The Homo Sapiens Agenda
Autor- Becky Albertalli
Genre- Young Adult Fiction, Romance
Setting- High School
Rating- 5/5 Stars
Summary- It is about a guy who doesn't want to be outed but someone outs him anyway. So he has to face his fears and he finds a guy that he truly likes.
Title- City of Bones
Author- Cassandra Clare
Genre- Fantast Fiction, Young Adult Fiction
Setting- Modern Day New York
Rating- 4/5 Stars
Summary- There is a girl who can see people that no one else can and her mom gets kidnapped. She has to work with the people to save her mom.