Are The Arizona Cardinals The Real Deal?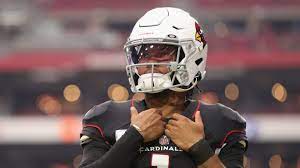 The Arizona Cardinals are the best team in the NFL right now. They are 6-0 and they have a top ten offense and defense. Kyler Murray and Lamar Jackson are looking like the new MVP candidates for this year. With Zach Ertz, DeAndre Hopkins, AJ Green and James Connor, the Cardinals are a HUGE threat to anyone they come across this season. JJ Watt, Chandler Jones, Budda Baker, and Bryon Murphy make the Cardinals defense a stopping machine.
Kyler Murray had four touchdowns and has a rating of a 129% last game against the Browns. DeAndre Hopkins (Dhop) has average 17.1 a play, and he has 350+ yards. Arizona is looking HOT but in week 8 they play the Green Bay Packers. They need to prove that they are the better team.
The Arizona Cardinals Head Coach, Kliff Kingsbury, is looking like the coach of the year. Arizona Cardinals organization is just looking amazing. This team is looking like they are unbeaten. This is the team that could be in the Super Bowl. Could they finish off with a super bowl win or will they fall short in the playoff run?
Now who is going to challenge them. The Los Angeles Rams are 5 and 1. Matthew Stafford has been a top five quarterback. The Green Bay packers are another challenger. Aaron Rodgers is looking like a superstar and Davante Adams is still being a top 3 wide receiver. The Dallas Cowboys have been on fire. Dak Prescott slinging it to his weapons. The Dallas Cowboys have been on top for a long time. Arizona has challengers, but they could top them off.