Enes Kanter Took A Shot To Michael Jordan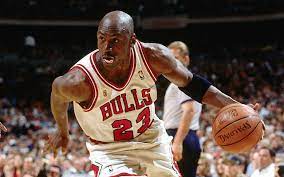 On CNN November 10th, 2021, Enes Kanter called out Michael Jordan for not protesting for Black Lives Matter or the Kyle Rittenhouse trial. Kanter wants Jordan to speak about his emotions, but Jordan is only there because he loves basketball, not the drama. Jordan has not been known for sharing his beliefs or emotions. The only thing he shares about is how he loves the game of basketball.
So why does Jordan not show enough attention to the black community? Well, in 1990 there was an election between Harvey Gantt and Jesse Helms. Gantt was coming close to replacing the racist Helms. Helms was popular for his long term serving. When they asked Jordan to vote for Gantt, he didn't do anything. Jordan says, "Republicans can buy shoes too." The thing with Jordan is that he isn't one sided when it comes to race. He treats everyone equally.
Why did Kanter cause all this drama? Well, on November 23rd he became a US citizen. He was born in Switzerland and grew up in Turkey. The public was making threats to Kanter about how he should go back to Turkey and how Turkey's president was a bad man. He changed his NBA name to Enes Kanter Freedom. On CNN, he was talking about LeBron James and how he shows enough attention to the black community. But Jordan does not do anything for the black community and he's only worried about his shoe sales.
Well, it seems like Kanter is trying to get Jordan's attention, but it seems Jordan isn't fazed by this. Jordan has a lot of criticism in his life and all he says is "I prove on the court and off the court that I will always be the best." Kanter took another shot at the Brooklyn Nets owner Joseph C. Tsai about how the Chinese are using him as a puppet. Kanter has been trying to be part of the US, but frankly, he's just doing too much.