Michigan High School Shooting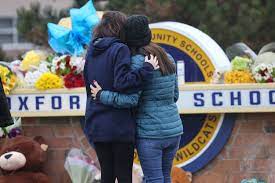 On November 30th, 2021, there was a chill in the air, feeling like there was going to be an evil moment. In Detroit, Michigan, there was a school shooting at Oxford High School. Four people died, and three were wounded from the gunshots. The school was warned that someone had strange behavior. That someone was Ethan Crumbley. On the 27th and the 28th, he was drawing a bullet saying" the thoughts won't stop, help me" , and the teachers caught on to it. The school officials called him down to the office and called his parents. They were very worried about Ethan's behavior, but they thought it was the right step to put him right back in class.
So what happened on the day of the shooting? A 9-millimeter Sig Sauer pistol and three 15 round magazines were used during the school shooting. On Tuesday morning, they had a meeting with his parents about his behavior. Three hours later, he went to the bathroom with his backpack and pulled out the pistol, and the nightmare began. He shot 11 people and four ended up dead on the floor. Three of them wounded and when the school called the police, he dropped his pistol. He surrendered to the officials and was arrested. There was a video of the shooting about the kids escaping the school. Joshua Lewis said, "who wants to shoot up a school?"
So who are the victims that got shot? Tate Myre was a D1 football player and had scholarships. He was one of the best, if not the best, on his team. Madisyn Baldwin was 17-year-old who was destined to go to college and had a full scholarship. Hana St. Juliana was 14 years old when she died. She was on the basketball team and was paid a tribute by the team. Justin Shilling was a rich kid who loved to bowl. He was committed to his friends and to the team. They all will be remembered forever. 
Well, after this day Ethan Crumbley has been charged with numerous counts. He's being charged with four counts of second degree murder and one count of terrorism, which means he's going to be in prison for a long time. This shows how the world can be sweet but so bitter. Some people can be cold-hearted and take lives away from people.