National Days Breakdown
Many of you have probably heard of national days but for those who haven't heard an explanation for you along with the rest of this month's holidays!
What are they?
National days are something that takes place everyday of the year. They were created by Marlo Anderson and there are over 1500 national holidays. The united state congress, the house, the senate, and the via president are the ones who decide on the days. This is for all the people who want everyday to be a holiday. We made this happen by giving little things to celebrate. An example would be national ice cream day or national dog day. For that day you know you have to eat ice cream or spend it with your dog. 
Students Views
I talked with two different students at this school about national holidays. These students were Janica Kramer and Lakyn Smith. The first question I asked is what is your favorite national day? Janicas was national best friend day and Lakyns was awkward moment day because she has a lot of those. I then asked if they could add a national day, What would it be? Janica said she would add natioanl binge watch your favorite show day and Lakyns said I would add national hot pink day. The last question I asked is if there is a national holiday they haven't heard of? Janicas said she hadnt heard of Uncle Sam Day which is  on the 13th. Lakyn replied with national chocolate milkshake day which took place on the 12th. 
This week's national holiday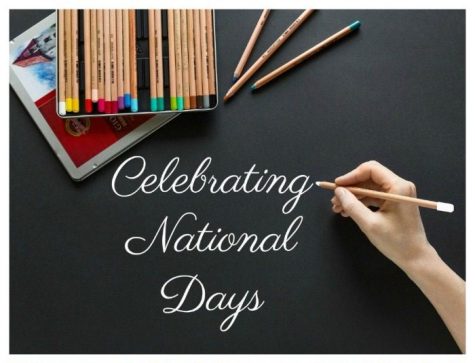 September 12th 
National Chocolate Milkshake Day

National Day of Encouragement

National Hug & High 5 Day

National Just One Human Family

National Report Medicare Fraud Day

National Video Games Day
September 13th 
National Bald Is Beautiful Day

National Celiac Disease Awareness Day

National Kids Take Over The Kitchen Day

National Peanut Day

Uncle Sam Day
September 14th 
National Cream Filled Donut Day

National Eat a Hoagie Day

National Live Creative Day

National Parents Day Off

National Sober Day

 

National Virginia Day
September 15th 
Greenpeace Day

National Cheese Toast Day

National Creme de Menthe Day

National Double Cheeseburger Day

National Felt Hat Day

National Linguine Day

National Neonatal Nurses Day

National Online Learning Day

National Tackle Kids Cancer Day
September 16th 
Mayflower Day

National Cinnamon Ra

i

sin Bread Day

National Guacamole Day

National Play-Doh Day

National Step Family Day

National Working Parents Day
You can find all of the national days at https://nationaldaycalendar.com/september/