The Reasoning Behind Holidays
Have you ever wondered how holidays came to be? I know when holidays are and get so excited to celebrate them every year but I only know the religious meaning behind some of them and nothing else. There are 11 federal holidays in all that are decided by the congress. I talked with Mya Ward who is a student at our High School and she told me ¨If I could add a national holiday, it would be my birthday so everyone would have to give me presents . Looks like the congress needs to add a new holiday. Now, lets get on with the story:
Why we celebrate?
There are several reasons behind holidays but the main one is its a time to celebrate and get together. According to Psych Central, it helps us build bonds with our community and family. It's a way we can feel like we belong and can express ourselves. We can form traditions and keep them going throughout the generations of families. We can actually find studies that show that taking time away from your occupation and celebrating holidays reduces stress. We all have different reasons why we celebrate or don't celebrate holidays. I talked with Ellie Peters and she told me her favorite holiday was the fourth of July. She celebrates this holiday because ¨ It's in my favorite season. I also get to gather with all my family and watch the pretty fireworks¨.
Where it came from
The first holiday of the year was New Year's Day. It's on the first of January and it's a way to start the year. The first holidays were invented in the 1870s. The first holiday to ever be celebrated was Halloween. According to history.com, it derived from ancient festivals and religious rituals and is still widely celebrated today in a number of countries around the globe. The word holiday was actually the words holy and day combined. The word was first heard all the way back in the 1500s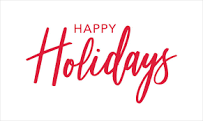 and was actually a replacement for the holiday. Holidays were often known for the connection they have in religion. It added dates to the calendar where we can celebrate religious events such as Christmas.
List of the Federal Holidays 
New Years Day – This takes place on January 1st. This holiday is when the new calendar begins creating the new year.
Martin Luther King Junior Day- This is on the third Monday of January. This falls on the birthday of Martin Luther King Junior and it is known as the day we celebrate his work.
Presidents Day- This is the third Monday of February and actually takes place on George Washington's birthday.  It's a celebration of our nation's first president. 
Memorial Day- This is the last Monday of May. This is a day dedicated to mourning our military members who have died from serving our country.
Juneteenth-  This holiday takes place on June 19th. It marks the day in 1865 where there was finally freedom of slaves in Texas. This holiday is to celebrate how far we have come in the freedom of enslaved African Americans.
Independence Day- This takes place on July 4th. This holiday is also known as the fourth of July and is the celebration of our nation. On this date in 1776, we adopted the declaration of independence, hints at the name of the holiday.  
Labor Day- This is on the first Monday in September. On this date we recognize the labor movement in the United States. It's a way to celebrate how far we've come in our working conditions. Many people also use it as a mark of the end of the summer and beginning of the school year. 
Indigenous Day- This happens on the second Monday in October and is more commonly known as Columbus Day. This holiday is to celebrate the different cultures. It's a way to honor native Americans and their history. 
Veterans Day- This happens on November 11th. This holiday is to honor the veterans and those killed in the country's war. 
Thanksgiving- This holiday falls on the fourth Thursday in November. Thanksgiving is a day of thanks and to bless the harvest for the year to come. It was first celebrated by the pilgrims after their first ever harvest. 
Christmas Day- This is on December 25th. This is a holiday to celebrate the birth of Jesus. The name Christmas actually originated from the word Christ and is supposed to be a remembrance that Jesus sacrificed his life for ours.