Spirit Week Results
Twice a year, Great Bend High School host a spirit week to get students to show school spirit. Last week was our first spirt week of the school year. The Pep Club bored brainstorms ideas and then votes to come up with what days we do. In the past, we have done more basic ones that we gathered from watching other schools. This year, we decided to take it up a notch with the themes.
Tuesday- Little Miss Day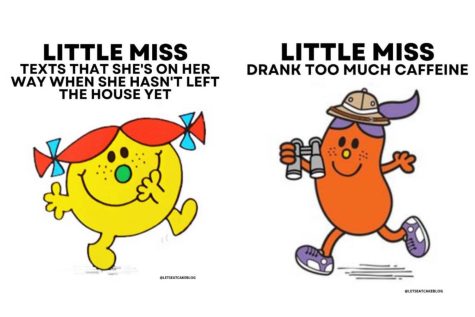 This is a new trend that has been going around on the media, mainly Instagram. It involves little character with a quote that starts out with the phrase little Miss or Mr.  In the quote, you give a word or phrase that describes yourself.  An example would be "little miss noisy" or "little miss sleeps all day". You can get as creative as you want with this idea. Most students who participated either wrote it on a plain t-shirt or printed it off on a piece of paper and tapes it to themselves. The characters that are presented with the quote actually came from a British children's book series called "Mr. Men".
Wednesday – Bikers Vs Surfers
Biker vs surface is exactly what it sounds like. This day was inspired by teen beach movies. Students who dressed as bikers mainly wore red, bandanas, leather, or denim. The people who dressed like surfers wore lays, sunglasses, and Hawaiian themed clothes.
Thursday- Soccer Mom Vs Barbecue Dad
This was the theme that students went all out for. Soccer moms are the moms at the game wearing clothing such as lululemon. They typically have on leggings and a tight fitting jacket. There signuature look typically includes a pulled back bun, fanny packs, or sunglasses. Students even brought snacks because a lot of soccer moms bring snacks for the players. Where the students decided to go all out was barbeque dads. Most students wore khakis and oversized tees. Some of the students even drew on facial hair, brought grilling supplies, or stuffed pillows in there shirts to give them the dad bods. This tended to be a favorite for the students. I talked with two students on why this was there favorite day.  April  Mcclan said "it was a funny idea that a lot more students participated in".  Clarissa Bashor said "seeing all these female students try and dress like dads was so fun to see. It was a different spirit day then what I normally see"
Friday- Red and Black
Finally, we have red and black day. We always do Fridays this way because its homecoming. The football games also have the same theme. Students wore there best panther gear.
Now, here are some pictures of students who participated to end the story.