Ironman Volleyball and Powderpuff Football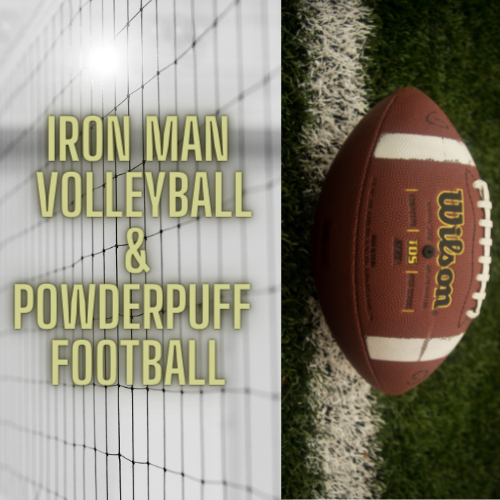 Every year, our student council host Iron Man Volley and Powder Puff Football. These events take place during buffer week. Anyone is welcome to participate in these events. Lets get on to know more a bout them. 
Iron man volleyball is where the male gender play volleyball. Powderpuff is where the females play football. We have no one of the opposite gender on the original team so its fun to watch them swap. Students take it into there own hands to from a team. For Powderpuff, there is a limit of 9 members and 2 coaches. Each player and coach brings 5 dollars to participate and it raises money for our student council. Ironman volleyball is the same way but 8 players and two coaches. Each team can only be made up of players in your grade. For example, only freshman on one team and only seniors on another.  Another fun thing about this is your coaches are the members of the athletes that actually play the sport. The boy football players coach the powderpuff and the female volleyball plays coach the boys volleyball. 
Powderpuff 
Powderpuff football was also rescheduled after the lights didn't work on Tuesday night. We will be informed of a later date that works.  The teams that were signed up  include three freshman teams, two sophomore teams, one junior team, and three senior teams. I am on the senior team "Kiss Our End Zone" and I believe our team has a shot this year. We have been putting in the practice and are ready to see how our season turns out. I also talked with two other seniors from a different team. Kennedy Sandy and Anna Campbell are on the same team. Kennedy Sandy quotes "We probably will not do good to be honest but we are just excited to have fun and play a sport none of us have really have before". Anna said " I don't know what I expect for our team but we will work hard and see the outcome". 
Ironman
Iron man volleyball was supposed to take place Thursday November 10th. This date has been postponed to a later time as well . If you are interested in creating a team, now would be the perfect time to get together and start practicing. Be checking your emails for more sign up information. The email will be from Rachel Thexton. 
If you are interested in coming to watch the entry fee is non perishable food items. You can bring canned or boxed foods that will all be donated back to our panther pantry. Our Panther Pantry is a place you can go if you are a student at our school to get food items. If your ever needing anything to eat, we are here to help. We also have our hygiene closets that has things such as deodorant or toothpaste. If you ever need anything, this option is opened to you. This is located in the counselor's office.