All Star Basketball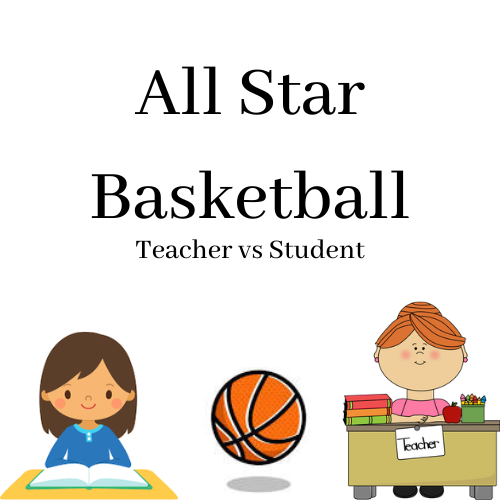 All Star basketball
Kayettes throws several different fun events throughout the year with all Star Basketball being one. This is where we have staff members and non basketball players have a game against each other. 
This year kayettes Board Member Clarise Snapp is in charge of this event. The Basketball team is made up of senior players Analiz Rivas, Axel Madrid, Brantley Shaffer, Charley Sander, Danny Nieto, Dru Penka, Kaiden Esfeld, Russel Cook, Alyvia Mingenback, Blaike Parsons, Cameron Harbaugh, Catie Haberman, Madison Regehr, and Reagan Huslig. Our teacher polayers are  Erin Beck, Cindy Beck, Mrs. Moeder, Mr. Wilson, Mr. Klaussen, Mr. Loera, Mr. Westerhouse, Mr Schneider, Mr Bartel, Mrs Stalcup, and Mr Wells. The Coaches will be Braylon Council and Cayden Scheuerman. Our announcers will be Kennedy Sandy, Ellyson Summers, and me, Kynslee White. Charley Sanders quotes "I think the game is going to be super fun, we had practice and we all had a good time playing and practicing together. I'm nervous that the teachers will win after seeing how our first practice went". Aubrey Smith said "I think if they dont put me in, our team could have a chance of winning. We only had one practice. I'm nervous for if I get the ball and make a dumb decision cause I usually do"
This will take place tonight starting at 7. If you are a player or helping with the event you are asked to be there before 6:45. We encourage everyone to come watch and cheer on our teams. If you are a spectator, you don't have to pay to get in but bring two items for our food bank.
List of Items 
Peanut Butter 
Jelly
Canned Meat
Canned Vegetable 
Canned Fruit 
Canned Soup 
Canned Chili 
Spaghetti noodles and sauce
Macaroni and Cheese
Tuna and Hamburger Helper 
Mashed Potatoes (Instant)
Beans (one pound bag or  canned)
Rice (one pound bag)
Breakfast Cereal 
Milk 
Cornbread mix 
Saltine Crackers
Oatmeal 
Orits 
Jello 
Come out tonight and support. You won't want to miss it.