Christmas Spirit Week
With Christmas right around the corner, student council decided to host a Christmas spirit week before we go out for break. This will start Monday December 12th and last all the way through the week. So lets make sure you know the days so you can participate.
Monday is themed long winter nap. This means you can come in your comfy pajamas and warm fuzzy socks. This is a perfect theme for the dreaded Monday to get you started on your week. This is Ashley Reddig, a senior at GBHS, favorite spirit day.  She quoted ¨This is my favorite day because I get to wear my warm Christmas socks¨.
Tuesday is themed Channel your Flannel. For this day is where you wear your favorite winter flannel. This will also be the day of our first panther basketball home game. The theme at the game will be Jersey Night.
Wednesday is themed holiday helpers. This is where you can dress as any Christmas characters. Some example would be the Grinch, Santa, a reindeer, an elf, a snowman, or any other character you can think of.
Thursday is themed winter wonderland. For this day you can dress in blue, white, or silver.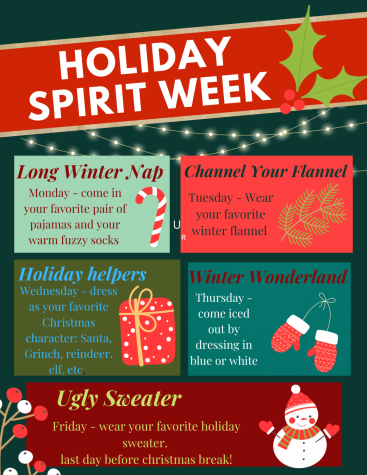 Friday is themed Ugly Sweater. For this day you can come in your favorite Christmas sweater. This will also be another home game for our panther basketball team. The theme is Christmas crazy so you can wear your Christmas sweaters to the game as well to support! Catie Haberman is also a senior at GBHS. She quoted ¨my favorite spirit day is ugly sweater because I have so many¨.
We hope to see everyone participating in these fun Christmas themed days. Its a great way to end the semester and get in the spirit for Christmas. If you are free in the evenings, you should definitely come to the panther Games. We have two home games this week on Tuesday and Friday night. The varsity boys will start at seven. Its definitely a fun experience you don't want to miss. Merry Christmas!