Popular artist on Tour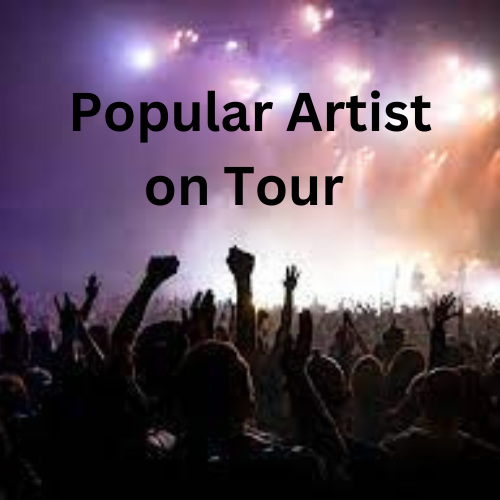 If you are someone who loves to go to a good concert or have never been but are dying to go to one, this story is for you. While there are many artist on tour right now, I'm going to talk about the top three I would be interested in attending.
Many people have already heard, but Drake is one of these artist on tour with 21 Savage. When he announced his tour dates it was a very popular mention on social media. His tour is called "Its All a Blur Tour". According to StubHub, Drakes concerts are typically around four hours. The opening act will take around 90 minute and you can expect a intermission as well. It is said that Drake made around 84.3 million off his tours. The last time he was on tour was in 2018 with Migos so you can see why his fans were excited to hear he was back. However, this tour is very pricey compared to other artists. Ticketmaster is actually facing a lawsuit for the overpriced tickets. Some Fans were spending over a thousand dollars for just one ticket. I personally will be attending the Dallas Show of Drakes Concert but lets get into the dates.
Tour Dates
June 16th in New Orleans, LA          July 8th Detroit, MI
June 19th Nashville, TN                     July 9th Detroit, MI
June 21st Houston, TX                       July 11th Boston, MA
June 22nd Houston, TX                     July 12th Boston, MA
June 24th Dallas, TX                          July 14th Montreal, Canada
June 25th Dallas, TX                          July 15th Montréal, Canada
June 28th Miami, FL                          July 17th Brooklyn, NY
Jun 29th Miami, FL
July 1st Atlanta, GA
July 6th Chicago, IL
Another famous artist who announced his tour is Bryson Tiller which is called "Back and I'm Better Tour". The name of the tour is actually a popular lyric in the song Don't by Bryson. Bryson hasn't been on tour for six years so he also had a very big reaction from his fans. His tour will consist of 25 different dates and will happen between May and June. While the presale did already happen for his concert and Drakes concert, there are still other sites such as SeatGeek and Vivid Seats that you can purchase from at your own risk. Ticket Master is the safest site to get guaranteed tickets on time. Bryson's tour dates consist of:
May 3rd Anaheim, CA                 May 28th Miami, FL
May 4th San Diego, CA               May 29th Orlando, FL
May 6th Denver, CO                    May 31st New Orleans, LA
May 10th St Louis, MO                June 1st, Austin, TX
May 11th, Milwaukee, WI            June 2nd Houston, TX
May 13th, Chicago IL                    June 4th  Dallas, TX
May 15th Detroit, MI                    June 6th Phoenix, AZ
May 17th Boston, MA                   June 7th Las Vegas, NV
May 18th Montclair, NJ               June 8th Los Angeles, CA
May 20th New York, NY              June 10th San Francisco, CA
May 21st Philadelphia, PA          June 11th Oakland, CA
May 23rd Silver Spring, MD       June 13th Seattle, WA
May 25th Charlotte, NC               June 14th Seattle, WA
May 26th Atlanta, GA
Bryson also has two international dates that consist of Toronto, ON, CA which would take place April 11th and London, GB which will take place July 8th. Adison Galusha and Charley Sanders are students at Great Bend High School. They both went to a SZA concert so I asked them about there experience. Adison said "I think the concert was overall amazing the environment, the people, and of course SZA. If I could go to any concert I would go see Lil Uzi Vert because he is my favorite artist. Charley said "The concert felt like a dream. When she came on stage it felt so unreal, I loved every moment of it. and if I could go to another concert I would want to go to a young Justin Bieber concert for the memories.
There are many more artist on tour soon that might be a better fit for you but these were my two personal favorite. Another artist that's currently on Tour is A Boogie Wit Da Hoodie. This is a cheaper tour compared to other famous artist and he preforms in Colorado at the end of April. Tickets are still available for certain shows for his tour as well. You can go to the website Ticket Master to find more artist who are or will be on tour.