Advice for Seniors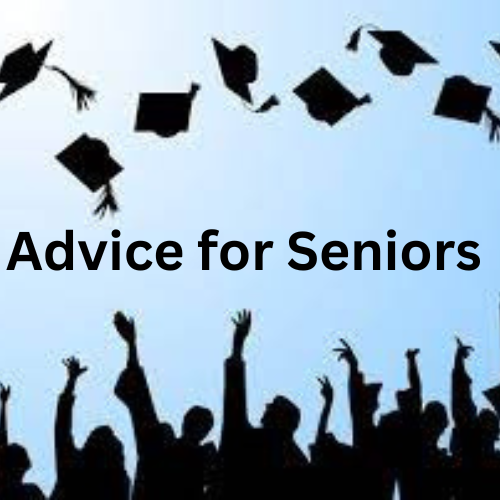 With graduation right around the corner, seniors are coming to the end of there high school days. While this causes mixed emotions between the students, the time is still arriving. there are 18 school days and 27 days counting weekends till the last day for seniors.
Students have many skills they need to learn before they are out on there own. One of these would be money management. Especially if you are going to live on your own or go to college right off the back. There are so many basics you need to count for including food, gas, bills, and so much more. If you haven't already, start a saving account now. Its important to save your money or spend it wisely so you aren't in debt for the rest of your life.  Another thing that you will want to be good at when you leave is organization. Some people are naturally organized while others have to work to stay neat, Either way, its a skill you need to be good at. Once your on your own the responsibility of bills comes. There's constant bills you need to pay that are due at certain times. You have to stay organized so you know when everything is due. Not paying your bills on time can lead to more charges. Organization will also help you figure out what you need to prioritize. Not only do you need to manage money, but also time. this comes with the skill of prioritizing as well. What is more important. Studying for your test, getting good sleep, or going out with your friends. While I hate to say this, not wasting time by spending it unproductively is important.
Along with these things mentioned above, most of us aren't just given a source of money to live off. While some students have a job in high school, its not a dependent source for most. One thing you need to be able to do is find a stable job. Some students will go off to college while others will not. If you aren't, its a great time to start looking into the occupations you can have without a degree. If you are going to college, its always good to have a part time job to bring in money until you get your degree to get the job you actually want. While it may be hard to balance, its giving you a taste of the start to your adult life. Aaron is a senior at GBHS. He already has his college planned out. "I plan to go to Barton Community College to get my associates degree in athletic training then go to FHSU to get my bachelors in athletic training". He also told me "The advice I would give to underclassmen is to get to school on time and if you are late, go to the office and get your tardy slip. Stay on top of your work and ask for help if you need it". I also talked with Levi, who is another senior at GBHS. He also has his college path planned out. "I plan to go to Barton for 2 years and then go to K-State for anthropology and Egyptology". His advice to underclassmen is "be nice to your teachers, they don't make enough to put up with your tomfoolery".
to end this article, I would like to give one piece of advice as well. Don't give up yet. keep pushing through the end because you are so close. Have a great rest of your school year!